20 Mar 2023
Bronze for Cambridge Mechatronics at Chariots of Fire 2023
Sunday marked the return of the highly anticipated Chariots of Fire relay race, bringing together more than 1,600 runners to raise money for Arthur Rank Hospice.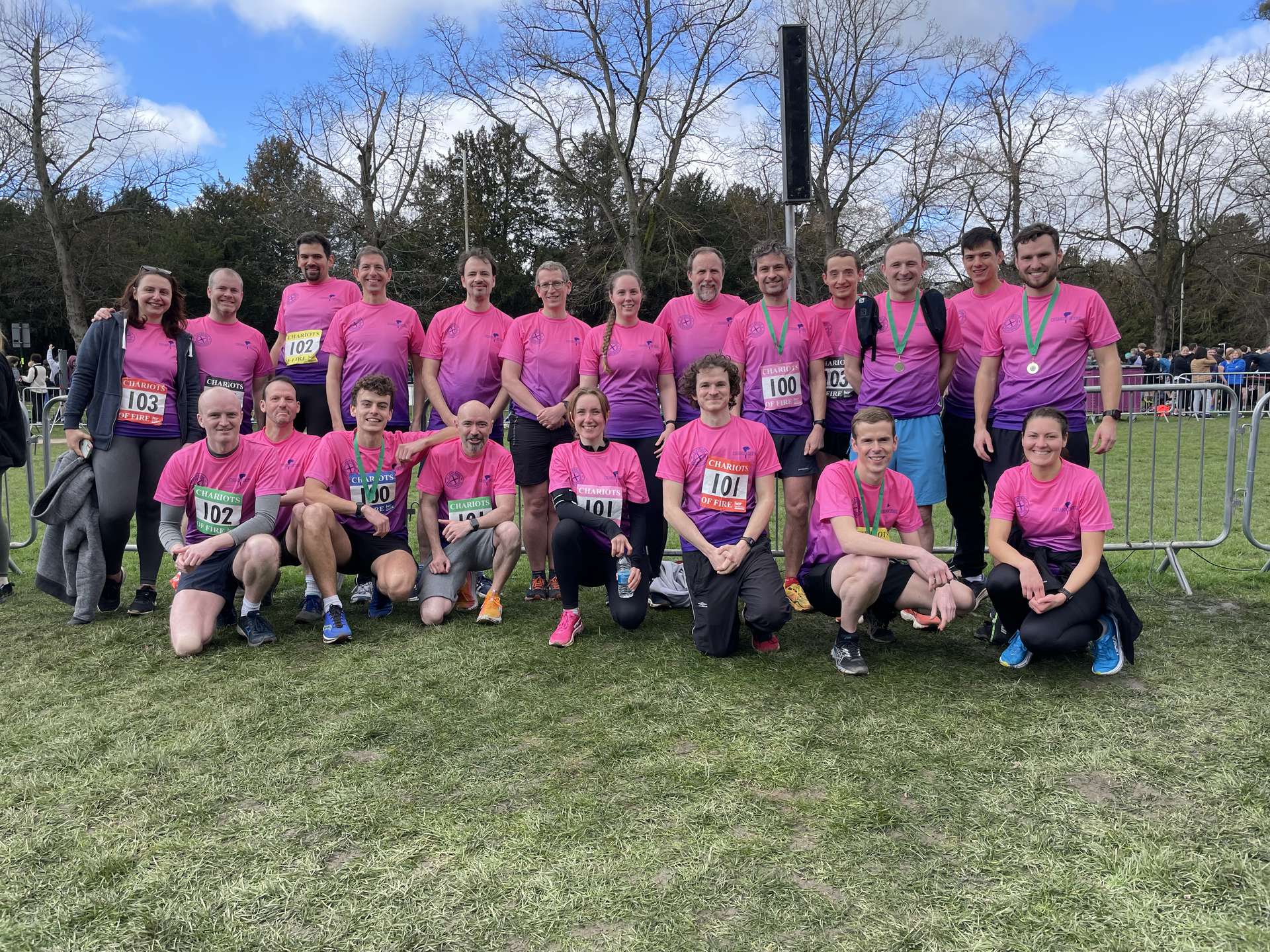 The circular 1.6 mile route drove racers around the beautiful streets of Cambridge, starting at Queens' Green, with teams of six competing to take home the ultimate honour. Now in its 30th year, Chariots of Fire brings together businesses, charities, friends and family across Cambridgeshire, raising tens of thousands for Arthur Rank Hospice and marking the start of spring.
Team CML, rocking this years' new pink and purple shirts, came out in style finishing in 3rd position overall behind Giulio's and Glassworks Gym and being the highest ranking all employee participants in the race. In total 18 CML employees from took part in the race.
It was fantastic to have such a strong turnout from CML with 4 teams entered in total and for our A-team to finish on the podium. CML is proud to help raise money for such a good cause such as the Arthur Rank Hospice" – Josh Carr, Team Captain.
Wendy Von Niebel, trustee for HCR Hewitsons Charitable Trust who helped to organise this years Chariots of Fire remarks on how the race was extra special, celebrating the 30th edition and the 40th year of Arthur Rank Hospice, as covered by Cambridge Independent.
---
About CML: Cambridge Mechatronics Limited (CML) is a world-leading developer of mechanical, optical, electrical, silicon and software designs for system-level solutions using its Shape Memory Alloy (SMA) platform technology. Actuator solutions using SMA wire (as thin as a human hair) can be controlled to the accuracy of the wavelength of light. These actuators are particularly suited to applications that require high levels of precision and force, in a compact and lightweight design.
If you'd like to learn more about CML or SMA technology, please do get in touch.