5 May 2023
Cambridge Mechatronics wins Digital Engineering and Technology Award for world-class precision actuator solutions
On Thursday 4th May 2023, Cambridge Mechatronics Ltd (CML) attended the Insider Media 2023 Annual Made in Central & East England Awards, scooping the prize for Digital Engineering and Technology for the development of its 8-wire Shape Memory Alloy (SMA) actuator solution.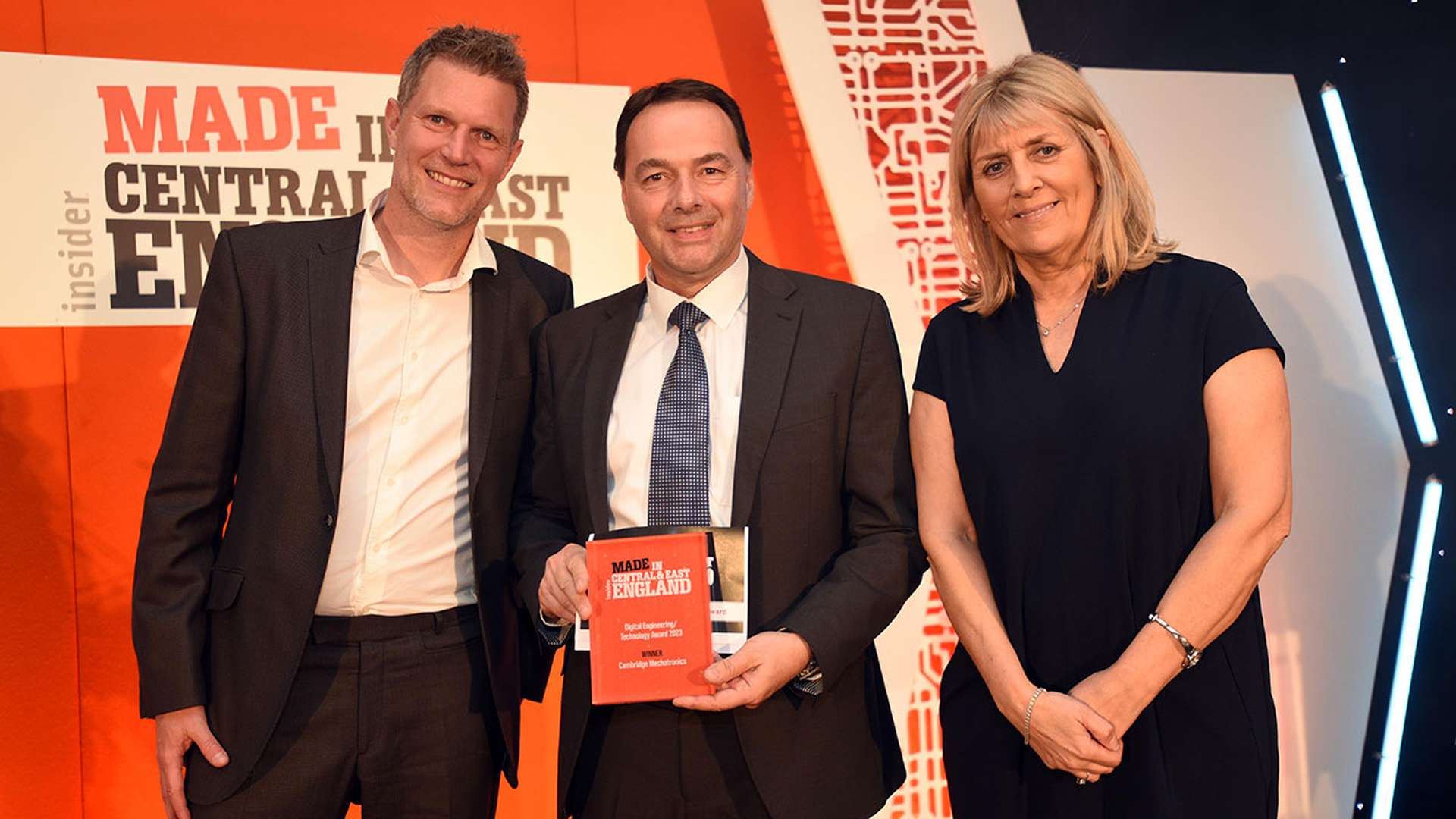 The awards were held at the Leonardo hotel, Milton Keynes, bringing together the region's key manufacturing and engineering industry to showcase the quality of products and services supplied by its attendees and to celebrate the individuals contributing towards the technology of tomorrow.
CML's Andrew Bickley and Alexander Doust were invited onstage to accept the award by Managing Director for South East & Central Regions, Tracey Bull. She explained CML was awarded the prize for its "cutting-edge actuators that impressed the judges". Whilst on stage, Andrew and Alexander were asked to comment on the applications and sales growth potential of the technology. Other companies nominated in the Digital Engineering and Technology category were Cambridge Precision, Acuigen and Envisics.
We are delighted to receive this recognition from Insider Media Limited, further demonstrating the leading technology solutions offered by Cambridge Mechatronics. We continue to have a busy year ahead and we are excited to bring new and innovative products to the consumer electronics market.

- Andrew Bickley, Managing Director for Cambridge Mechatronics Ltd
---
About CML: Cambridge Mechatronics Limited (CML) is a world-leading developer of mechanical, optical, electrical, silicon and software designs for system-level solutions using its Shape Memory Alloy (SMA) platform technology. Actuator solutions using SMA wire (as thin as a human hair) can be controlled to the accuracy of the wavelength of light. These actuators are particularly suited to applications that require high levels of precision and force, in a compact and lightweight design.
If you'd like to learn more about CML or SMA technology, please do get in touch.