19 Nov 2019
Demand for large format image sensors and camera actuators expected to grow
The major smartphone brands have all released their flagship handsets for this year. DxOMark, a leading independent photographic equipment reviewer, has now reviewed and ranked these smartphones based on their imaging capability.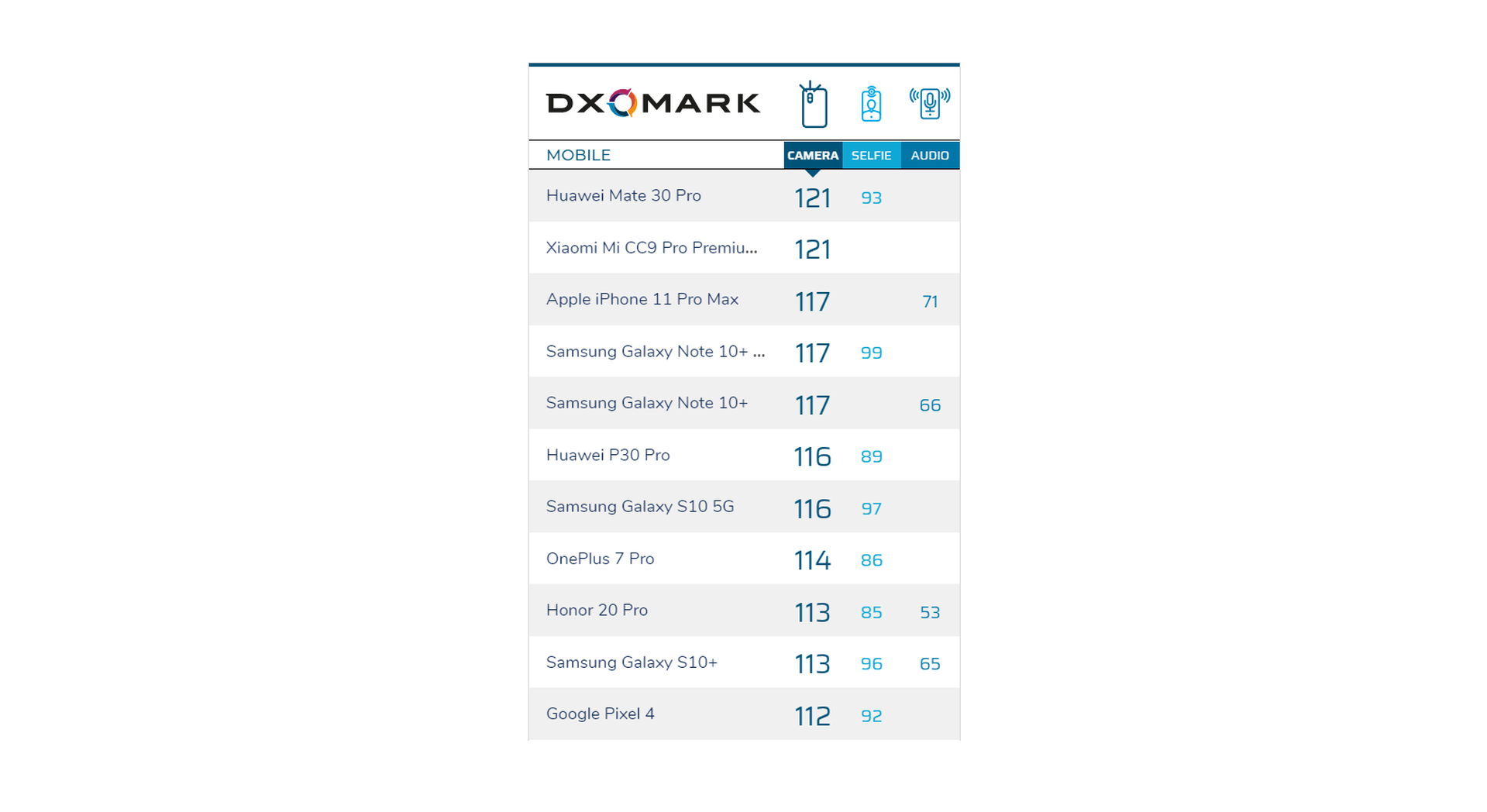 According to DxOMark, Chinese vendors Huawei and Xiaomi are the current market leaders in smartphone photography. Huawei's Mate 30 Pro features four rear cameras which offer wide, ultra-wide, telephoto and ToF functionality. Both wide and ultra-wide cameras have large format image sensors with 40MP resolution. Xiaomi's recently launched Mi CC9 Pro features a 108MP wide-angle camera within a five-camera setup.
The high quantity and quality of smartphone cameras on these devices mean Huawei's Mate 30 Pro and Xiaomi's Mi CC9 Pro currently sit joint top of DxOMark's smartphone camera ranking with overall scores of 121.
Samsung's Galaxy Note 10+ features four rear cameras offering an identical camera setup to Huawei's, but with lower resolution wide and ultra-wide sensors at 12MP and 16MP. DxOMark awarded it a score of 117.
Apple introduced triple-cameras for the first time in their iPhone line-up this year. The iPhone 11 Pro Max houses three 12MP rear cameras which provide wide, ultra-wide and telephoto capability. A DxOMark score of 117 for the iPhone 11 Pro Max places it level with Samsung's Galaxy Note 10+.
Google's Pixel 4 features two rear cameras; a 12MP wide camera and 16MP telephoto. DxOMark awarded the Pixel 4 with an overall Camera score of 112, placing it in eleventh position in the table.
All smartphone vendors complement camera hardware with software, providing functionality such as HDR, night mode and panoramic stitching. This can be described as computational photography, which refers to advanced image capture and processing techniques. HDR, high dynamic range, captures multiple photos at varying exposures and merges them into a single image. This allows a much higher dynamic range, permitting images with both bright highlights and dark shadows. Camera night mode includes the capture and processing of multiple long exposure shots to maximise light intake. Panoramic stitching consists of joining a collection of side-by-side images to build a super-wide photograph, requiring algorithms to perform precise overlaps of the different shots.
Apple and Google both released additional software enhancements which has helped improve their DxOMark scores and augment their camera hardware. Apple's 'deep fusion' technology, which leverages machine learning alongside image stacking, allows better textures, lower noise and a wider dynamic range. 'Smart HDR' uses advanced algorithms and machine learning to fine-tune detail in both the subject and the background. 'Semantic rendering' obtains better subject information and determines how best to expose the overall photo.
Google's HDR+ captures bursts of up to nine frames and stacks them to reduce image noise. Marc Levoy, Google's Computational Photography Lead, explained at the Pixel launch event how image noise is reduced by a factor equal to the square root of the number of images combined. Therefore, when using a total of nine frames, only a third of the original image noise remains. Other software advancements include dual exposure control and machine-learning white balance.
The Huawei and Xiaomi devices top the DxOMark score table and have a high number of cameras and large format, high resolution image sensors. Advanced camera software can work in tandem with camera hardware and improve image quality but is not a substitute for a large number of cameras including those with leading-edge components.
Therefore, CML expect the demand for smartphone cameras, particularly those with high resolution large format image sensors, to be strong as the top smartphone brands compete for the best camera quality and highest DxOMark scores. This is welcome reading for the leading image sensor suppliers and companies, such as CML, with actuator products that are compatible with their large format image sensors.