15 Feb 2021
2020 market developments - some interesting pointers
Despite everything, the smartphone market grew by 4% year on year in Q4 2020; and 2021 should be another growth year.  The camera is still a major marketing differentiation.
Apple sold more smartphones in Q4 2020 than any other competitor, the first time since 2016.  The 5G network compatibility in the iPhone 12 caught the natural customer upgrade cycle.
Huawei suffered greatly from US trade sanctions.  The surprise was that Samsung did not benefit more.  How Samsung reacts to Apple's reemergence and Huawei's problems will be most interesting.
For some years, the number of major participants in the smartphone market has contracted.  In 2020, there were only 6 significant brands.  This will change in 2021, with the presence of the Honor brand spin out of Huawei.  How Honor performs in 2021 and beyond, in China and worldwide, will be a very interesting issue.
Apples iPhone 12 camera complex contained two interesting new features – sensor shift, rather than the conventional lens shift: and a 3D sensing module.  Both are complicated and heavily dependent on Apple computational intricacy and bespoke Apple IP.
CML's product line up in cameras and 3D sensing is well positioned to take advantage of the 2020 developments set out above both through its customer relations and new product range.  In a separate release, CML outline the attractions of its sensor shift and 3D sensing modules.
Further detail on these points may be found below.
After recent turbulent times, analysts' data shows the smartphone market continuing to improve. The fourth quarter of 2020 saw shipment volumes of over 385 million devices, up over four percent year on year and showing a return to historical growth figures.
Leading industry commentator International Data Corporation (IDC) report the momentum heading into 2021 will remain strong. A quote from Ryan Reith, program vice president with IDC's Worldwide Mobile Device Trackers sets the scene and signals a promising year for the smartphone market and its suppliers.
The recovery of both the smartphone market and its supply chain has been truly impressive and the year-end growth is testament to how far we've come. The majority of the world is either in some form of lockdown or still waiting to return to normal day-to-day life, yet smartphone sales are rebounding as though nothing ever happened. This illustrates the importance of smartphones in everyone's life and provides a strong foundation for market demand. As the world progresses towards a post-pandemic environment, IDC believes demand will grow and the market recovery will accelerate.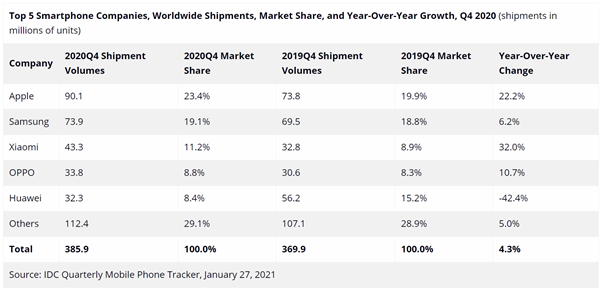 The fourth quarter saw a significant shuffle in the market share of the top five brands. Apple were particularly successful and top the sales statistics for the first time since 2016. The iPhone 12 range which comes with 5G compatibility has been particularly well received and is riding the wave of the roll-out of new high speed 5G networks.
Samsung typically takes the number one position but has been bumped to second, so will need to consider initiatives to regain market share. Huawei saw the most dramatic shift as it moves to fifth position. Huawei has been seriously hindered by lack of access to the Google Android operating system and leading-edge chips due to sanctions from the US administration.
Following its separation from Huawei, Honor is not subject to restrictions from the US and is now an independent smartphone brand – the first significant new market entrant in some time. In combination with a management and engineering team coming from the Huawei group, this gives Honor strong opportunities in both its domestic and the global market, making this good news for consumers worldwide. CML has an established relationship with Honor and looks forward to continuing to work together as Honor further establishes itself as a significant market player.