12 May 2023
TECNO launches CAMON 20 Premier 5G with SMA sensor shift OIS technology from Cambridge Mechatronics
The CAMON 20 Premier 5G is part of the TECNO CAMON 20 series line-up and comes with patented sensor shift OIS actuator technology from Cambridge Mechatronics in the 50MP RGBW main camera sensor.
TECNO Mobile has announced it is bringing sensor shift OIS to the market enabling steady portrait photography. This technology can compensate for shakes up to 5,000 times per second to enable crisp and vivid imaging and video quality. The CAMON 20 Premier 5G main camera supports a 50MP RGBW ultra-sensitive sensor for Night Portrait and supporting bokeh in portrait photography is a 2MP f/2.4 depth sensor. The 108MP ultra-wide camera comes with autofocus and macro abilities and the selfie camera comes with a 32MP image sensor. 
Traditionally, optical image stabilization (OIS) is achieved by moving the lens in response to user shake. Following Apple, TECNO has now adopted sensor shift OIS to achieve anti-shake compensation. By moving the image sensor instead of the lens, rotational motion can be stabilized, enabling 3-axis stabilisation. TECNO has selected to adopt a 4-wire shape memory alloy (SMA) technology design licensed by Cambridge Mechatronics (CML) supported by CML's controller IC and control algorithms.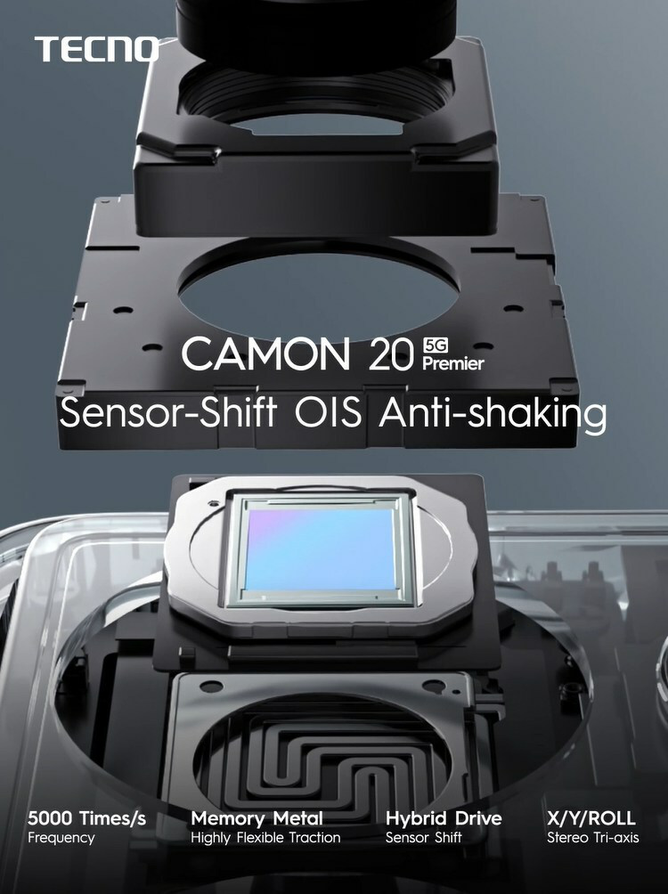 The TECNO CAMON 20 Premier 5G contains the new MediaTek Dimensity 8050 chip with an advanced 6nm octa-core architecture. Furthermore, the handset comprises a 6.67-inch AMOLED display with 120Hz refresh rate, state-of-the-art heat sinking, a 5000mAh battery and 45W super charger.  
The CAMON 20 Premier 5G handset has also won a Muse Design Award for the CAMON Puzzle  deconstructionist design creating a signature look designed for fashion trendsetters. The CAMON 20 series will be available across Africa, Latin America, the Middle East, Southeast Asia, and Southern Asia.     
"TECNO CAMON 20 brings together innovative technologies and modern stylish design in one striking, high-performance series. TECNO CAMON 20's advanced portrait and video technologies let users record those emotional motion moments in sharper detail." 
Jack Guo, General Manager of TECNO 
"We are very pleased that TECNO have selected CML's patented 4-wire sensor shift actuator design, driver chip and control technology for its flagship handset. TECNO's adoption further demonstrates the benefits and maturity of SMA camera technologies." 
Ben Brown, CTO Cambridge Mechatronics 
---
About CML: Cambridge Mechatronics Limited (CML) is a world-leading developer of mechanical, optical, electrical, silicon and software designs for system-level solutions using its Shape Memory Alloy (SMA) platform technology. Actuator solutions using SMA wire (as thin as a human hair) can be controlled to the accuracy of the wavelength of light. These actuators are particularly suited to applications that require high levels of precision and force, in a compact and lightweight design. 
If you'd like to learn more about CML or SMA technology, please do get in touch.